Symbiotic Relationships of Fungi (Lichens and Mycorrhizae)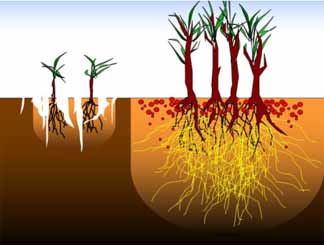 Submit Abstract
Register Now
Symbioses are the type of intimate associations which involves two or more species. Fungi have numerous symbioses involving many eukaryotes and prokaryotes. Symbioses are categorized according to the relative benefit or harm that the partners experience as a consequence of the interactions i.e. Parasitism or mutualism in the association. The categories given above are useful for conceptualizing the diversity of symbioses, but they oversimplify the nature of the interactions, especially mutualisms. Presently many ecologists and evolutionary biologists regard mutualisms and other symbioses as reciprocal parasitism.
Lichen - the appearance of lichens is plant-like which hides their true identity. It is not a single organism, but the result is mutualistic symbiosis between an alga or cyanobacteria and a fungus. Sometimes lichens are formed with three or more partners. The body of lichens consists of filaments (hyphae) of fungi, which surrounds the cells of blue-green cyanobacteria and/or green algae. The fungus lichen provides its partner a benefit by giving protection and in return it gains nutrients. Lichens can grow in a wide range of shapes and is usually determined according to the organization of the fungal filaments. The fungus part of lichen benefits from the algae or cyanobacteria as they produce food by photosynthesis. It grows in a wide range of substrates and habitats. Lichens classifications done based on the fungal component present in it. Its species are given the same binomial name according to the fungus species. Some lichens also have antibiotic properties and some of the acids produced by lichens are utilized in drugs that can be more effective than penicillin.
Mycorrhizae – this association is between fungi and plant roots, where the fungi derive photosynthetic sugars from the plants, and they assist the plant by facilitating the uptake of mineral nutrients and water. Approximately 70-80% of all plants have mycorrhizae. There are two major forms of mycorrhizae.
Ectomycorrhizae are formed primarily by basidiomycetes (about 5000 species), and also a few ascomycetes. A sheath of hyphae called a mantle envelops the plant root and hyphae penetrate into the cortex. These symbioses involve mostly forest trees, including oaks, birches, willows, pines, dipterocarps, and eucalypts. Many choice edible fungi are ectomycorrhizal.
Arbuscular mycorrhizae are formed by zygomycetes called glomales (150 species). Although there are relatively few known species of glomales, these symbioses are extremely widespread, involving roughly 70% of plants, including many herbaceous plants. Here the fungal hyphae penetrate into the cells of the root cortex, where they produce characteristic branched structures called arbuscules.
Mutualist dynamics
Cyanolichens
Occurrence of mycorrhizal associations
Types of mycorrhizas
Related Conference of
Symbiotic Relationships of Fungi (Lichens and Mycorrhizae)
Symbiotic Relationships of Fungi (Lichens and Mycorrhizae)
Conference Speakers
Recommended
Sessions
Related
Journals
Are you
interested

in